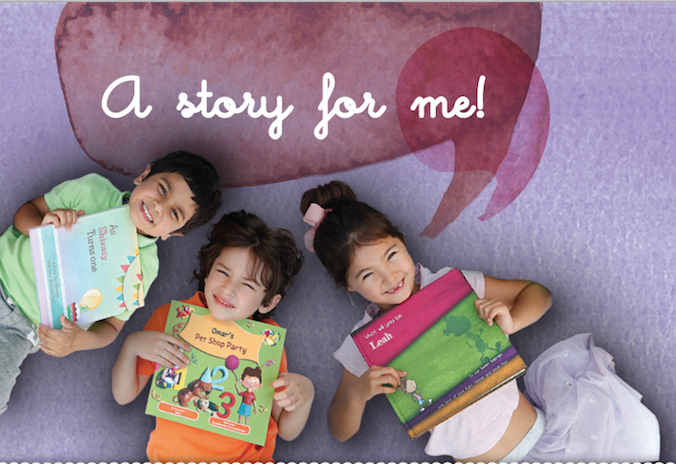 'Story For Me'
Press Release
Story For Me – Make the child the hero!
Personalised story books aim to encourage and make reading fun for children from ages 0-8 years
Dubai, UAE: In an effort to inculcate reading habits amongst children at the early learning stage, two passionate mompreneurs have launched "Story For Me" that personalises stories for children and makes them the hero of their tale. Story For Me currently offers a range of 13 books, with emphatic moral messages and beautiful illustrations, mostly created by mothers. These personalised story books encourage and make reading fun, while taking young readers on a magical journey.
"We enjoyed our childhood reading beautiful stories and want our children to experience the joys of imagination where you can become anyone that you wish to. As grown-ups, we crave for those innocent days of fantasy and wanted to bring that back into the lives of our children," explains co-founder Sharavati Choksi.
"In the current scenario where almost everything is available online, we don't want kids to miss out on the pleasure of reading. But inculcating reading habits in children is not easy. Finding the right book is challenging, and getting the child to read through till the end is an additional task. How can reading be made more fun, and how can the child connect with books at an early age? This is when we saw an opportunity to give young readers the reason to read from a book and be transported into a world of their own," added Choksi.
"During the days that led to the creation of "Story For Me", we came across a large community of mothers (like us) who were too busy raising kids, while putting their passions on hold. Some were closet writers, while others were designers who were unsure of facing the daunting work-life balance after having children. We found an opportunity to form an eclectic mix of talent to create stories that go a step further in making the child feel special by making him/her the star of the book. So, let us spread the love and gift a child the joy of reading," says Zeeshahn Fezi, co-founder, Story For Me.
To cater to the melting pot of expatriate population, most books provide an option to customise the hair and skin colour of the character. All personalised story books are hard bound and include the child's name across the book, a picture and a personal message from the sender.
Expanding the creative realm, Story For Me also offers readers a fun and unique keepsake photo book. This special Do It Yourself (DIY) book allows a child to make their own, truly personalised memory album that includes photographs, stickers, writing and drawing.
All books are available online across the GCC at www.storyforme.me. Each personalised story book is priced at AED 200 and every photo book is for AED 100.
- Ends -
For further information or interviews with SFM, please contact:
Email: info@storyforme.me
ABOUT STORY FOR ME FZC
Story For Me FZC founded by Sharavati Choksi and Zeeshahn Fezi in 2017 aims to encourage reading in the early stages of childhood. The 'Mompreneurs' felt that children needed motivation to read more. This pursuit took them on a journey where they met like-minded mothers, and harnessed their talents and creativity, to create 13 titles for children between the ages of 0-8 years. All the story books are classified by age and gender.
Story For Me offers an extension to their product line with a fun and unique photo book allowing young minds to create their own personalised memory album.